Storage Container Foundations: Concrete Slabs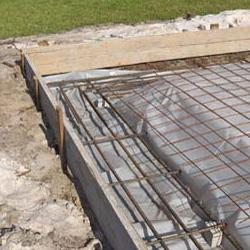 Concrete slab foundations for your container project are the largest, and most expensive type of foundation that you can build. For many types of projects concrete footings or wooden beam footings are suitable, and due to cost and the amount of time involved there are few situations when you would need to create a container foundation this large.
The variable that has the greatest impact on cost is the concrete itself. Due to the volume of concrete required it's the best option is to hire a concrete crew to pour the redi-mix concrete. Hiring a crew will save you a great amount of time and energy. As we discussed in the previous concrete footings article, bagged concrete doesn't provide a great volume of concrete, and for your slab foundation to set properly you'll need to have it poured quickly.
One area where you do have the option of saving on costs is building the form. A slab foundation for a shipping container is designed differently than a normal slab foundation; due in part to where the weight being carried on the edges and corners of the foundation.
Read the rest of the article here.