53' Shipping and Storage Containers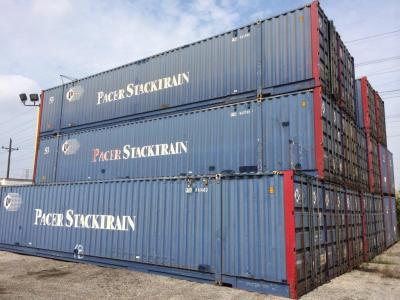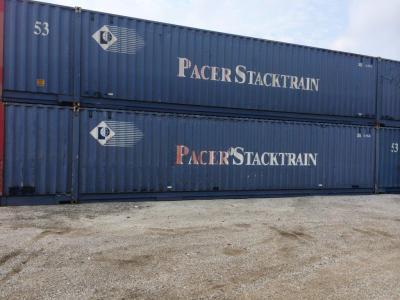 53' shipping containers are the largest standardized shipping container in use today, and if you can find them they make excellent storage units for farms and ranches, or commercial facilities.
Quick history: Originally, APL integrated them into international service in an effort to save on logistics and trans-loading costs. After a few years the project was dropped because it didn't meet the prescribed goals. Currently, 53' shipping containers are only used for US domestic shipping on trucks and trains.
Size Matters: 53' shipping containers are huge, so big in fact that you can load three cars into one container. They're 53' long (obviously), 8'6" wide, and 9'6" tall. 9'6" gives the container high cube status, while the 8'6" wide makes them unique in the fact that they're 6" wider than any other container in use. Comparing it to a 40' high cube, the 53' container has a little more than 1,100 more cubic footage capacity for storage or shipping. While a 40' high cube has just under 2,700 cubic feet, the 53' container has just over 3,800 cubic feet. Yes, the container does normally cost more than a 40' high cube, but if you do the cost average per capacity it's easy to understand why the economics idea came into play.
Obstacles To Buying: If you plan on buying a 53' container, your first obstacle will be finding one, and your second will be finding someone to move it. Given the extra 13 feet to a standard container, moving one of these beasts takes a larger trailer or chassis. My only advice: before you get too excited ask around about delivery – any local trucking company should be able to point you in the right direction, or shut down your dream before you mentally move in!
Where to Find a 53' Container: 53' shipping containers are normally going to be in/around depots that service trains and trucks, and some ports that can service larger equipment (LA and JAX are two ports that come to mind). The larger sized containers also turn up in Chicago and occasionally Salt Lake City, UT. A good place to start your search is by searching for oversized shipping containers on a site like ContainerAuction.com.
53' shipping containers are a great unit, and smart economical choice, but only if you have the space for such a large unit. The storage capacity is excellent, and like most other steel containers they'll last you a life time.