Shipping Container Housing and Cabins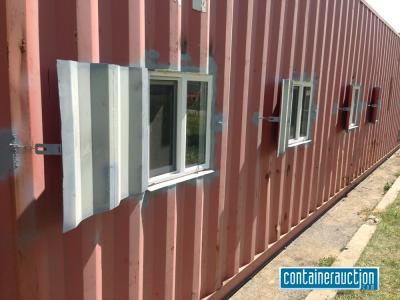 Shipping containes are a big business, both in their original use (shipping things) industry, and their aftermarket applications.  Originally, used shipping containers began to gain acceptance as storage units on farms, ranches, and then commercial and residential properties.  As more and more people started to see them, some creative architects got involved and began to use them as building blocks for modular housing and cabins - then came the preppers.  Preppers, in case you aren't aware, are groups and individuals that are predicting TEOTWAWKO (the end of the world as we know it); and these guys are going to be prepared when it comes.  I'm not completely sold on the idea (yet), but I'm also not going to count them out.  It's always good to have an insurance policy just in case.
Anyway, we're here to talk about container cabins and container housing.  Container housing can be anything from a basic, simple housing unit (think rustic cabin) to a complex structure that costs more than a traditional stick built house.   It really comes down to the needs, wants, and available funds of the person who's building it.
The staff over at ContainerAuction.com has summed it up pretty good.  "To make a shipping container "liveable", a conversion project requires you to have skills, contractors or friends with electrical and plumbing know-how, as well as a working knowledge of welding and fabrication. Every person and project has different wants, needs, and requirements; so rather than go into details and "how to's" about container housing we've compiled a list of common features of a container cabin."
They've also put together a list of basic ideas and options for a shipping container cabin, and you can read them on that page.
If you've got any questions, comments or ideas about container housing and cabins, no matter if you're a prepper or just a random guy looking for a creative idea to start, feel free to contact us through the comment section or contact page on this site.