Six Great Ways to Use Surplus Shipping Containers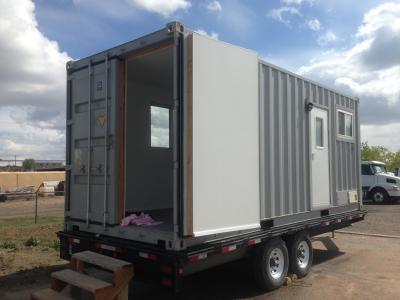 Over the last few years exports in the U.S. have dropped off. This has left many shipping yards and shipping container retailers with extra used containers. Surplus shipping containers, known for their cheap prices, are reusable in a multitude of ways. Here are six of the best uses.
Shipping containers of any size make a great place to store items for either your business or your home. Solid steel containers are known for their ability to protect goods. When they were used for overseas shipping they had to endure harsh seas, corrosive salt water, being stacked upon one another, and even strong winds. So their use on dry land is perfect for ensuring that your most valuable of items are safe from Mother Nature. You can even have a locking door mounted to keep potential thieves from stealing your belongings. Using a container for item storage is as simple as purchasing one, having it delivered and moving your items in.
Surplus containers are also great a great low cost way to move or ship your personal belongings. Maybe you just got a new job in Paris and you want to take along your grandmother's antique desk. Buying a used container can be a great way to get your items safely to your destination. They are also great for land based moves. You can rent or buy a container and even rent a chassis to carry it on. Once you fill it up and attach it to the back of your truck you are ready to go. This is great if when you get to your new location you do not want to unpack everything at once. You can just leave the items in your container until you are ready for them.
Small businesses and offices can also benefit from the utilization of various shipping container sizes. These sturdy boxes make great office space. You will, of course, have to make some changes such as adding electricity and windows. This would even be a great idea for your new pyrex glassware store. With a few container modifications, you can set your container up anywhere and start selling your products. This is good because if you find one location does not work for sales, you can move to another location.
Containers also provide the option for extra room in overcrowded schools. They can be a cheap way for schools to get by until they can afford to build an addition. Shipping containers, with windows, power, and heating and cooling installed, can provide comfortable classrooms. In schools, containers can also be used to keep harmful cleaning chemicals or equipment away from children.
One area that is an unknown use for containers is in wilderness areas. Because some containers are refrigerated units run by generators, they can keep large food supplies safe from the elements and from wild animals. Containers can also be used for forest ranger sheds and rest areas.
Perhaps the best use of surplus shipping containers is for cheap shelter. This is especially beneficial in areas with a high homeless rate. Those who need shelter can use an insulated container to keep warm in the winter. Usually, though, containers are converted to permanent houses with electricity, running water, and heating. Use in this manner provides lost cost homes for many people.