Shipping and Storage Container Flooring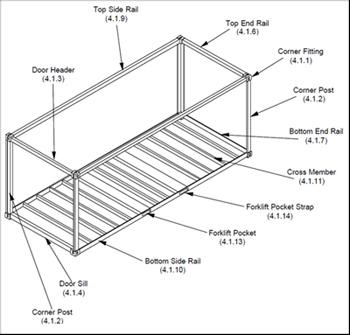 Shipping container flooring has seen various changes over the years, and the type of flooring can depend on the type of container or the company that originally had the container built.  If you're plans are to purchase a container for intermodal shipping or to use as a mobile storage unit, you may not need to be overly concerned with the flooring material and structure.  If you plan to modify a container into a modular housing unit or some other type of residence, you may want to consider the structure of the container and flooring material.
The structure of the floor is typically made of steel joists or cross members that are six inches deep (150mm), and placed 20 inches apart (508 mm). These cross members run across the container and are welded to each of the beams on either side of the container. This design allows for the weight to be carried corner posts and the floor. If you make any modifications to the cross members it can weaken and compromise the structural integrity of the container. Without any modification, containers can carry as much as 30 tons; enough to support the weight of a forklift packing the container with cargo. The container flooring itself can be made from several different materials. Historically, it has been constructed from 25-30mm thick marine plywood, consisting of the hardwoods Apitong or Keruing. Wood is ideal because of its strength, ability to withstand abuse and resist denting, and its natural friction. And while these two woods are strong and pest resistant, the available supply has decreased in availability of over the years.
A recent trend has been to use bamboo flooring in shipping containers.  Bamboo grows quickly and can be cut to similar sizes to plywood.  Another alternative to the traditional Apitong or Keruing is steel flooring.  The steel flooring typically plates designed with a non-stick pattern or painted.
Read more about [shipping container flooring]