Searching for a Cheap Shipping Container?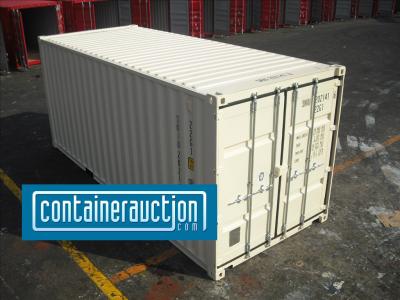 Like many things, you may not realized how universal cargo containers are until you start looking for one. Cargo containers, sometimes called ISO containers, shipping containers, or sea boxes, do a great job of blending into their surroundings. They are often made in subtle colors like ivory or almond, allowing them to be camouflaged in both urban and rural environments. You probably drive or walk nearby containers every day. Shipping containers can be used for portable storage units, mobile offices, or even converted into modular housing units. While they seem omnipresent, the question that most people as is "where can I find a cheap shipping container?"
Before you begin searching for a cheap cargo container you should ask yourself these questions:
How long do you need the container to be? Most commonly, cargo containers are 20' and 40' long.
What do you plan on using the container for (storage, housing conversion, shipping)?
What condition must the container be in (typical conditions are "cargo worthy", "wind/water tight", "one trip", and "as-is, where is")?
Do you require a shipping container delivery service, or do you have a truck to move it yourself?
If the container needs to be delivered, do you have a forklift or crane on site, or will you need a truck that's capable of unloading the container itself?
With these questions answers you can begin shopping for a cheap shipping container with confidence. It's important to remember that "cheap" can be a relative term, and your definition of a cheap, or affordable shipping container may be different than that of someone else. It's always well advised to do your research to find the best available container prices.
If you begin searching for a cheap shipping container in your local area, the internet is a great place to start. Once you find the websites of local container dealers or traders you should you may be asked to contact their office for the latest pricing. Container prices can change regularly and dealers are typically based in container depots or terminals, so they may not have a lot of time to update the inventory listed on their website on a regular basis.
The second option is using ContainerAuction.com to search for real time cargo container sales and container auctions. Many traders, shipping lines, and container leasing companies have accounts on the container auction trading platform and you may contact them directly through the trading platform to inquire about their inventory. The custom container trading platform hosts countless auctions and sales each month. If you don't see a container for sale in your area, chances are they can find you one at a great price.
It is best have a good understanding of why you need a cargo container, and with this bit of knowledge you can find an affordable price on a shipping container in your area. Whether you're using it for on-site storage, a temporary office, or a modular home or other type of cargo container conversion, shipping containers are a great choice to fill your needs.