Refurbished Shipping Containers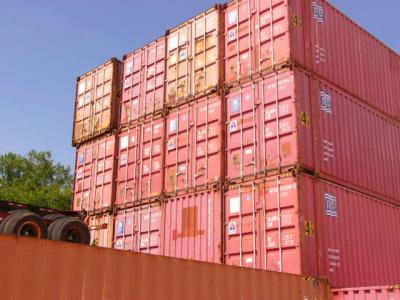 With the growing inventory of available used shipping containers, the rising price of steel, and challenging economy, more and more people are starting to refurbish shipping containers for other purposes.  It's called many things, refurbishing, recycling, up-cycling, even repurposing… the end result is the same thing, a used shipping container being cleaned up and used for a new purpose.
What's a Refurbished Container?
A refurbished container is any used shipping container that's been repaired to a better condition and given a new lease on life.  The repairs usually include paint, installing a new floor, adding shipping container vents, man doors, or similar modifications.  The end result is a shipping container that's equipped to be used for portable storage unit, an oil field office, a construction site office, or even a shipping container shopping mall.
Eco-Friendly Shipping Containers?
The idea of an environmentally friendly shipping container can be looked at in different ways.  Taking a big steel box that was otherwise destined for the scrap heap and cleaning it up to be used for a portable storage unit or office is a great idea that saves on consuming new building materials (see: trees), reduces the CO2 output that would have been used in a lengthy construction process, and gives you a structure that will last a long time without much/any maintenance.  However, if the container is modified beyond recognition, then the carbon output and energy consumed to change it could negate any real value.
Where to Buy Refurbished Shipping Containers?
Depending on where you live there are probably options to either buy a refurbished shipping container, or buy a used container and to the refurbishment yourself.  If you need a shipping container in Colorado, you can check out ColoradoShippingContainers.com, if you need a shipping container in Ohio or Pennsylvania check out PurchaseContainers.com.  If you're just your looking anywhere else or just sniffing around for pricing one of the best places to buy a shipping container is ContainerAuction.com.