Calling Cleveland, Columbus, and Cincinnati – Find Cheap Shipping Containers in Ohio!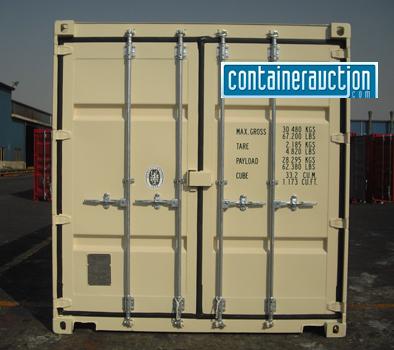 Ohio has a lot of trade and commerce.  Supporting the rubber and chemical industries alone means that a lot of shipping containers move in and out of Ohio on a monthly basis.  Great, what does this mean to anyone in Ohio, Western Pennsylvania (think Pittsburgh and Erie), or West Virginia (Wheeling, Morgantown, and Clarksburg)?  It means that if you're looking for a used shipping container to use as a storage unit, modular housing component, farm or mine storage, a Cleveland Browns Dog Box, or just to keep your toys in, you can find a cheap unit either for sale, or on a container auction.
Why are there shipping containers in Ohio? 
In spite of the downturn in Detroit, the manufacturing in Ohio has been resilient and able to redefine itself.  The rubber plants of Columbus and Dayton are still producing tires and tubes for aftermarket car parts, the building supply companies in Cleveland moving in lots of parts and components from all around the world, and the chemical companies in Cincinnati have raw chemicals packed up around the world and moved to Ohio for processing.
How do I find Cheap Shipping Containers in Ohio?
The best place to find cheap 20' and 40' shipping containers in Ohio and the Ohio Valley are closest to the cities of Cleveland, Cincinnati, and Columbus.  Buying the container close to these areas means that someone, a dealer or trader, hasn't had to pay to reposition the container to an area away from this location.  To find a container for sale in Ohio, the best thing to do is search for shipping containers for sale in Ohio on ContainerAuction.com.  Here you'll find shipping lines and leasing companies with new and used containers listed for sale.
What if I'm not in Cleveland, Columbus, or Cincinnati, can I still find a shipping Container?
Yes, of course you can.  You can still start be searching on ContainerAuction.com, or requesting information on Ohio storage containers.  Once you find a cargo container you'll need to consider the delivery options.  If you can pick up the container at the depot, it will save you a lot of money on delivery.  The second cheapest option is having a fork lift or crane on site to take the container off the chassis.  If you're not able to do either of the first two options, you can work to find a delivery company that has roll off trailer.  These types of trailers tend to be a little more expensive, but it will save you having to rent a fork lift.  If you're buying more than two containers, the fork lift rental option may be less expensive.
Does a New or Used Shipping Container Make a Difference?
You can find both new and used shipping containers in Ohio, but unlike some markets Ohio tends to have more used equipment.  Depending on what you plan to do with it, a used shipping container will work just fine for just about any product.  Before you buy a used cargo container you'll want to inspect it for rust, smooth swinging doors, and a straight frame.  Click here to read some tips for inspecting a used shipping container.
Finding an affordable shipping container in the Ohio Valley isn't hard, and you'll surely be able to find prices to compare.  Just remember to do your homework on delivery, and shipping container condition.  With that knowledge in your pocket you'll have no problem finding a great deal!