Boxpark: Shipping Containers to Urban Shopping Mall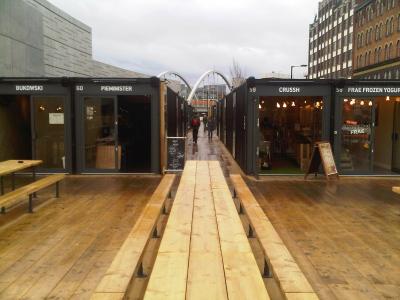 Boxpark, a shopping mall made from used shipping containers, is one of the world's first "popup shopping malls".
Located directly at the Shoreditch High Street Tube station in London, the mall is constructed on a temporary site from 61 recycled shipping containers. The lower floor consists of 41 containers, and the remaining 20 shipping containers are on the upper floor. Almost all of the stores on the first floor open directly onto the sidewalk, with the exception of the retail unit (Nike) closest to the Tube station, which still has street high visibility. The second floor provides a great amount of seating for the multiple restaurants and coffee shops.
Fitting in well with the Shoreditch landscape, the mall is a welcome hip and industrial feature. And while the container complex doesn't utilize solar or extensive insulation, it's important to consider the speed and efficiency at which a container building can be constructed. Minimal waste is produced when building a modular structure such as this, and much of the environmental impact cast off when building any type of traditional structure is mitigated. Modular structures like this can be produced off-site, delivered, and assembled on site.