40' Standard - 40' High Cube - 40' Super High Cube - What's Really The Difference?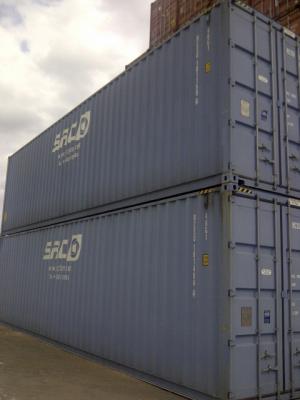 40' Shipping containers are one of the most popular shipping containers around the world. Almost every shipping line, port, depot, and trucking company is geared to move them on boats, trucks, trailers, and container handling equipment. Over the years, companies have become more effecient and wanted to grow their container size so that they could transport more goods. Since all the equipment is designed to carry containers that are 40' long and 8' wide, the only variable that they could modify is the height - and this idea gave birth to a new dimension in 40' containers - the "high cube".
What's difference does the extra foot make? 320' of additional storage to be exact!
New or used, 40' containers make a great structural foundation for any project. They're strong, quick to install, and very affordable. Did you know that the roofs of some mobile offices can only support 20 lbs per foot? A little snow can take that much weight, let alone a stray rock or other projectile from a quarry, oil field or construction site.
If you need to find shipping container, the cheapest ones are located around any port city or container depot. If you're not near a depot or port, there are plenty of traders or companies that sell and rent containers around the United States and Canada. Check out ContainerAuction.com for national sellers, or PurchaseContainers.com if you need a storage container in central Pennsylvania. Need a storage unit in Colorado? There's a company that specializes there as well!
| | | | | |
| --- | --- | --- | --- | --- |
| | Length | Width | Height | Volume |
| 40' Standard Container | 40' long | 8' wide | 8' 6" tall | 2720 cubic feet |
| 40' High Cube Container | 40' long | 8' wide | 9' 6" tall | 3040 cubic feet |
| 40' Super High Cube Container | 40' long | 8' wide | 10' 6" tall | 3360 cubic feet |