20 Foot Shipping Container Homes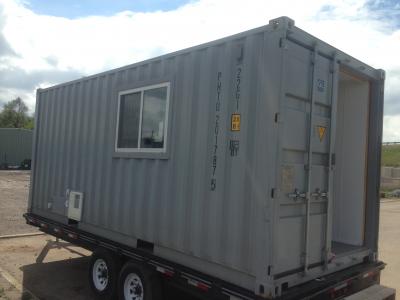 Many years ago the 20 foot shipping container was invented for shipment of goods. The first shipping company to use the shipping container was Matson. The height and length of this steel container van is ideal for shipment purposes. However, as years pass by, no longer do shipping companies use the same van. Hence, they are discarded as used shipping container.
Because these used shipping containers are left idle in one place, and can cause pollution to the environment, some geniuses worked on finding more uses for these storage containers. And they did.
These geniuses converted the metal containers into housing facilities, making a small and local community providing safe shelter and storage for many. The containers are even joined together to resemble a multi-storey and multi-room structure.
Hence, each unit can have two or three-storey complete with bedrooms, kitchen, living room, toilet and even a terrace. These units are placed side-by-side resembling a multi-units apartment building.
There are even beach resorts in the United States that have beach houses built from several 20 foot shipping containers. These containers are repaired and repainted to appear as if the entire structure has been constructed from new concrete and wooden materials.
Besides that, there are also industries that find the steel shipping container to be useful. Businesses use these ISO shipping containers as a portable building for temporary or permanent office, on-site office, and storage room. The containers are designed to meet the requirements of having an office building with amenities. Some use these metal objects for extension of office.
A refrigerated shipping container is used by businesses engaged in food distribution. Fruits, vegetables, meat and other perishables are stored in a refrigerated container prior to their distribution. Food companies find these objects to be convenient and beneficial because of the ample space each container provides.
In London, there are places called Container City and Container City II. Container City was built in 2001. The place offers studios and living apartments constructed from 20 foot shipping containers. The original 12 work studios were constructed in three stories. After that, there was a fourth floor of living apartments and studios.
After its success, Container City II was built in 2002. Urban Space Management created living units with five stories complete with elevator and full disabled access and 22 studios.
In Scotland, the same company built the Cove Park Artist's Retreat set on 50 acres countryside. The Cove Park Artist's Retreat was designed to stimulate and reinvigorate. It has everything you need to relax, stimulate and reinvigorate one's energy.
The Ecopod was designed as a stand alone unit or with other structures. It is designed from a 20 foot shipping container to minimize the environmental impact. It is a container home designed for on-and-off-grid living.
The Student Housing Project Keetwonen complex in Amsterdam is also built from a 20 foot shipping container. It is labeled as the largest container city in the world. It houses 1,000 students. The Keetwonen complex was designed in 1006 and each resident enjoys a bathroom, kitchen, balcony and separate sleeping and studying rooms and large windows.